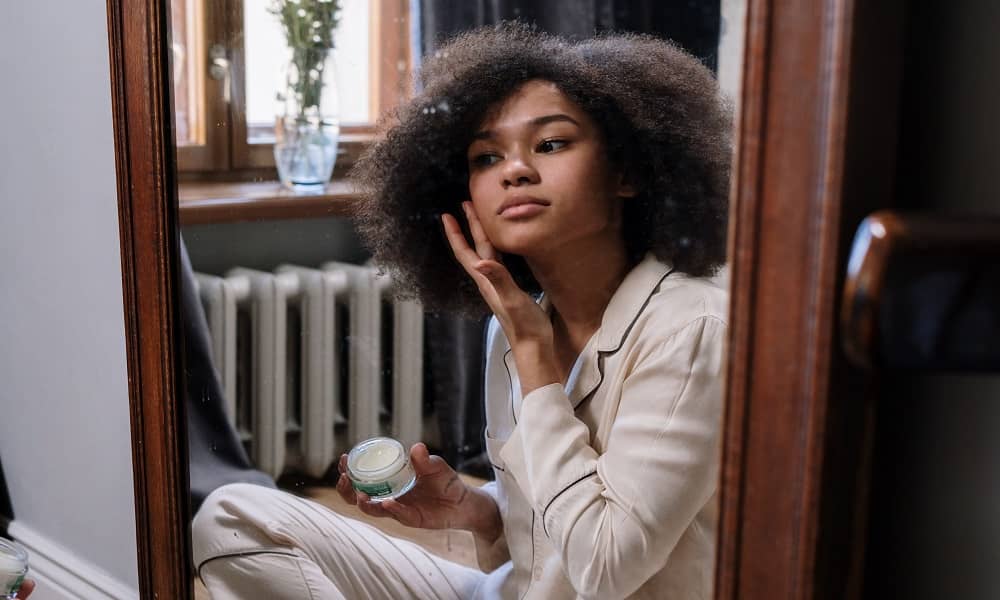 14 Jul

Phytoceramides for Skin: Does It Work? [Benefits, Supplement & More]
Support aging skin and lock in moisture with phytoceramides!
Phytoceramides are the brand new secret to smooth, fresh-looking lifted skin. Today, we compare the phytoceramides benefits and side effects to find out if you should really make it a part of your skincare routine.
The latest addition to the long list of skincare products is Phytoceramides.
Earlier ceramides derived mostly from cows were popular for refreshing and tightening skin. But Phytoceramides, as the prefix phyto suggests (Phyto means plant), is derived from plant sources like potatoes, rice, and wheat.
So, now everyone, including vegans, can use it and get the same effects. 
Phytoceramides lessens dryness and treats irritation while reducing fine lines and wrinkles. 
But what's the real efficiency of the leading skin care ingredient?
In this blog, we have discussed phytoceramides benefits and side effects to review its genuine capabilities. Along with that, there are also some recommendations of the best phytoceramides you can select from.
What is Phytoceramides Good for? [Benefits]
Phytoceramides are highly beneficial for restoring proper skin health. Also, it has the approval of the FDA and doesn't require a prescription. 
Not to mention the fact that regular application of phytoceramides improves hydration resulting in plumper skin without the application of any other topical creams or serums.
Here are some major Phytoceramides benefits. 
#1:

Perfect Moisturizer
Ceramides are naturally powerful to lock in moisture. Undoubtedly, phytoceramide supplements have got similar benefits. 
Research shows how it acts as a strong skin barrier when it comes to retaining moisture. This is a crucial element for maintaining proper skin health.
Recommendation: Revitol Anti-Aging Moisturizing Cream with Phytoceramides. 
Revitol offers its #1 selling super-rich high-performance anti-aging moisturizer. Made with shea butter (emollient), Matrixyl (peptide), and Ritapro 165 (emulsifier), it claims to stimulate the production of new skin cells.
#2:

Long Term Skin Health
Regular intake ensures phytoceramides restore the right hydration level in the skin naturally. 
A study shows how participants applying phytoceramides regularly observed a boost of 141% in skin hydration.
#3:

Minimize Wrinkle
With age, your skin loses natural ceramides resulting in loose skin. This is what leads to wrinkling face, fine lines, and other signs of aging specifically affecting your face. 
Phytoceramides benefit in toning your skin naturally. Meanwhile, it removes the signs of aging while making your skin wrinkles-free.
Phyto350 supplement replaces lipids lost with age and fills in fine lines. It only contains a mix of phytoceramides and vitamins and claims to be free from parabens and PEG compounds.
#4:

Protects the Skin from UV Rays
Global warming has led to ozone layer depletion. This has subjected our skin to harmful UV rays, sometimes, resulting in untreatable skin damage. 
Still, certain Phytoceramides benefits can help restore the deterioration. Regular intake can even result in long-term protection from harmful sun rays.
#5:

Reduces Aging Spots
Another problematic skin problem is aging spots. Regular intake of phytoceramide supplements helps repair the skin's barrier function resulting in better moisture retention and reduced signs of aging. 
Nonetheless, take a few precautions (more on this later) and never overdo the use of the new skincare regime for fast results.
#6:

Clears Under-Eye Bags
Puffy eyes are a common problem among women irrespective of age. Usually, anxiety and improper sleep patterns for a long duration result in under-eye bags. 
But studies have found how Phytoceramides benefit the removal of eye bags and reduce the puffiness under the eyes.
#7:

Removes Skin Blemishes
Phytoceramides contain a whole lot of vitamins and antioxidants. Its regular application eliminates acne and any type of blemishes. 
Also, it boosts collagen production making your skin smoother. 
Studies on Phytoceramides vs Collagen Supplements show the first one's greater efficacy than the latter one. [The study investigated the effectiveness of two on natural firmness of the skin and repairing skin damage.]
#8:

May Support Memory
The compound comprises a high antioxidant content. This is why researchers wanted to explore its effect on cognitive health. 
Indeed, Phytoceramides Benefits include positive responses for cognitive health. A study on mice found its supplementation effective in memory tests as compared to placebo.
#9:

Protects from Neurological Decline
In continuation to the above point, phytoceramides result in a high level of neuroprotection. Research has demonstrated how phytoceramide benefits help in preventing cognitive decline. Also, it may be beneficial for Alzheimer's.
Now, the question remains, phytoceramides vs ceramides – which is better?
Both have the same function in skincare, only the phytoceramides are naturally present in plants.
Phytoceramides can be absorbed and utilized by the outermost layer of the skin to create new ceramides in your skin.
In the long run, the advantages of phytoceramides are documented to be immense given that the amount is regulated. 
Next up, let's look at some common questions related to phytoceramides benefits and side effects as well as their capabilities.
Does Oral Phytoceramides Really Work?
Ceramides are naturally occurring components present in good amounts in healthy and young skin. With aging, you experience gradual depletion in ceramides density leading to poor skin health.
Currently, new innovative skincare products contain phytoceramide and ceramides to improve hydration and the skin's natural barrier function. 
These naturally enhance the presence of the component. The oral supplement of the same provides similar results.
Regular subjection of oral ceramides is claimed to dramatically improve your skin health. 
Indeed, you encounter a gradual improvement in the signs of aging, wrinkles, and fine lines, while improving hydration for locking natural moisture.
Oral supplements may function as a protective barrier while hydrating your skin inside out. This helps in long-term skin health.
Moreover, you can find a wide variety of Phytoceramides pills benefiting you with their nourishing effects. 
But that doesn't mean you can buy any product out there in the market, though. Some even have added ingredients, but note that doesn't always mean that they are better or more effective.
Only some are formulated with a composition that will work optimally. However, if you do choose to supplement ceramides, you can do so after careful research.
Can we speak the same from topical ceramide creams, though? Let's find out phytoceramides' benefits and side effects for the same.
Do Topical Phytoceramides Work?
Unlike oral supplements, topical phytoceramides work externally. It fills in the cracks making your skin smoother and lather out a protective skin barrier.
This helps in locking natural skin moisture while ensuring proper hydration. Also, it minimizes and limits the signs of aging, including wrinkles, fine lines, and spots. But the observable difference appears in the long run only.
In short, we can assume topical ceramides work. You should use them according to your preference.
Now, in the comparison of phytoceramides benefits and side effects, let's look for the possibilities of the latter one and if it outweighs the pros.
Are Phytoceramides Safe? – Side Effects are Rare 
While generally safe, we can't deny the possibilities of rare Phytoceramides Supplement Side Effects. 
You must have come across a number of phytoceramides health benefits and phytoceramide skin benefits. Those are completely true.
However, like with every natural product, there are certain risks that are undeniable. Also, not every user will encounter a similar fate. Some are still likely to experience certain negative effects.
Here, we've discussed the possibilities of phytoceramides side effects and what you need to be wary of while using a supplement.
#1.

Allergies
Food allergies are common. Specifically, gluten, soy, nuts, and fish. If you are gluten-intolerant, you need to avoid supplements derived from wheat. 
This applies to nuts and soy as well. Skip Phytoceramides pills having nutty flavors or containing oil.
People having fish allergies can have minor phytoceramides side effects too depending on the composition. They should avoid the product with kosher gelatine as a base.
As you can see, most of the side effects depend on the composition and whether it contains anything you're allergic to. If that's in your favor, you should be fine. 
If you experience something wrong, stop the supplementation and consult a doctor immediately.
#2.

Skin Irritations
Even if you have no allergy experience with the ingredients in the product, it can still trouble your skin. 
In rare cases, it can result in some skin problems like irritation, itchiness, redness, and skin irritation. 
Before applying any cream, do a spot check. For supplements, begin with small doses. 
Rare Phytoceramide Side Effects 
Besides allergies and minor skin irritation occurring on rare occasions, phytoceramides are safe. 
Also, they don't lead to severe complications due to the reliance on natural ingredients. Some users have experienced other Phytoceramide Side Effects on rare events. 
These may include:
acidity,

nausea,

dizziness,

headache, or

sleepiness.
If you have doubts, consult with a professional before proceeding with the usage. Here are some precautionary measures you can take on your own to prevent any minor side effects.
Phytoceramides Supplements for Skin: Precautions
For people with food allergies, the use of phytoceramides carries special precautions mostly because it's a plant-derived ingredient. 
Specifically, if you have a celiac condition, avoid phytoceramide supplements derived from wheat as they may result in digestive issues. Rather, look for phytoceramides that are derived from rice or sweet potatoes.
Here's a complete guide to phytoceramides precautions. 
Avoid using a phytoceramide supplement if:
You're pregnant or breastfeeding

– You should consult with a doctor before using any health supplements. This includes products related to the skincare regime and even the

best phytoceramides supplements.
You've certain health conditions including

chronic heart disease,

liver disease, and

renal disease.

You're below 18 years.
Additionally, follow these tips while using phytoceramides:
Do not take these supplements with alcohol.

If phytoceramide dosages make you drowsy, don't take them before driving or operating a heavy machine.

Follow the dosages

: When it comes to

phytoceramides pills

, keeping up with the recommended dosage is necessary. 

In case of negative effects, stop using the supplement immediately.
Irrespective of the phytoceramides supplements you use, these precautions apply to all such products. 
Phytoceramides – Q&As
In this segment, we have discussed some common questions related to phytoceramides and ceramides. Let's begin…
Q1:

Do phytoceramides have side effects or are phytoceramides safe?
Yes with rare side effects mostly in case of plant allergies. Phytoceramides are ceramides obtained from natural plant sources.
They are likely to be safe.  Even people with sensitive skin can use them without encountering phytoceramides side effects.
However, sometimes phytoceramide supplements also contain additional ingredients. Make sure you're not allergic to them before use.
Q2:

Are ceramides harmful?
It depends.
In general, they don't affect you negatively. People with serious health complications may encounter ceramide supplement side effects. So, consultation with a doctor is necessary before beginning phytoceramide dosages in case you have a prior skin or health condition.
Q3:

How long do Phytoceramides take to work?
Usually, oral phytoceramide show results in the first four weeks by repairing and refining skin damage.
Ceramides constitute about 35-40% of lipid compounds making the outer layer of skin. Nourishing and refining it takes a bit of time to lock natural moisture and refine skin health.
Q4:

What foods are high in ceramides?
Some foods have a high quantity of sphingolipids, which promotes the natural production of ceramides.
These include:
Q5:

Do ceramides help wrinkles?
Certain phytoceramide creams and skincare products help in improving your appearance by replenishing the lost ceramides. Ceramides strengthen the skin barrier against damage and replenish hydration. Ceramides make up about 50% of the outer surface of the skin.
Q6:

Is hyaluronic acid a ceramide?
These two are natural compounds produced by the human body, but their works and functions vary in many ways.  By nature, ceramides are lipids, which are fatty acids produced in your sebaceous glands. In contrast, hyaluronic acid is a humectant as it retains moisture in the skin.
Q7:

Can I take ceramides orally?
Topical ceramides take some time to show results. This is why experts have developed phytoceramides, unique plant-derived ceramides. The oral supplementation of the substance may show quick results. These supplements are usually formulated from wheat and rice.
Q8:

Are ceramides bad for your heart?
Several studies have investigated the link between ceramides and heart health. Untargeted metabolomic examination recognized three plasma ceramides as suggestively connected to cardiovascular mortality in a cohort with coronary artery stenosis confirmed by angiography.
Ceramides can be bad for the heart in excessive amounts. Moreover, consult a doctor before taking ceramides orally in case you're a heart patient.
Q9:

Can you mix ceramide and hyaluronic acid?
Yes. Ceramides can work well with hyaluronic acids. Also, it provides better results when used along with amino acids, peptides, and glycerine. A mixture of multiple ceramides strengthens the final effects and results.
Q10:

Can I use ceramide everyday?
You can apply ceramides as a regular skincare cream. Applying it as a day cream or night serum or even throughout the day is good. Lather it all over the face including your neck.
Q11:

Will ceramides break me out?
Ceramides are a bit too rich for oily skin or acne-prone face. So, it can even result in clogged pores.
However, it isn't common with everyone. Investigate your favorite ceramide-packed skincare cream before using it.  Also, have a look at phytoceramides before and after results or customer reviews. This may give you an idea of how it will work for you.
Q12:

Can you use too much ceramides?
Similar to cholesterol, ceramides are tacky molecules maintaining cell membrane while functioning crucial life-sustaining tasks.
In unnecessary quantities, it can stimulate the buildup of plaque in arterial walls. So, follow the application instructions whether you're using a cream or oral supplement.
Should You Use Phytoceramides?
The plant-derived ceramides, phytoceramides, emerge as a useful solution for people intolerant to ceramides use. 
The cream and oral supplements having the substance can improve your skin depending on its overall composition. 
They naturally restore the presence of ceramides to reduce fine lines, wrinkles, and other signs of aging. 
Meanwhile, they are claimed to lock in moisture and hydrate your skin to improve its texture. In terms of long-term skincare goals, phytoceramides are highly beneficial.
Of course, you can read phytoceramides reviews to realize its real-time effectiveness before use. 
When phytoceramides benefits and side effects are compared, possibilities of phytoceramides supplement side effects are negligible in contrast to benefits, especially when you use a topical cream. Even those with sensitive skin find these creams tolerable.
Just carry out a patch test before use, and you should be fine.
Again, you can use a topical cream or oral pills according to your preference. But when it's an oral supplement, exercise special caution and check over its ingredients for allergies. 
Last but not the least, do not go gaga over the claims of phytoceramides being a facelift miracle in a bottle. Nothing can substitute a regular skincare routine that's suited to your skin.
Having said that, phytoceramides can be a great addition to your skincare regime for reduced fine lines and added moisturization.