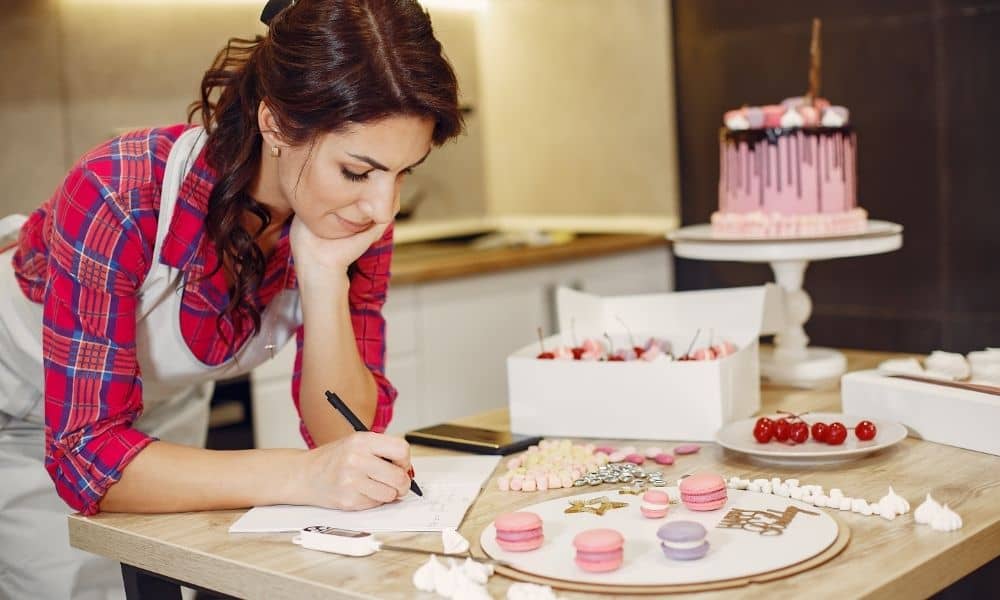 16 Dec

How to Start and Keep a Food Journal: It Only Takes 15 Minutes!

"Weight loss can be a frustrating experience, especially when you are finding it challenging to stick to a calorie deficient diet. In such cases, experts and experienced weight loss aspirants recommend starting a food journal."

Recently, a study showed that tracking what you eat takes only 15 minutes, and it's worth it.

Complaints about ineffective weight loss are quite common. Even after clinging to the strictest diet and hardest workout training, nothing appears to be working.

However, tracking down the reason may put an end to unconscious eating leading to lower calorie intake each day. 

Thus, the recommendation of Starting a Food Diary has some intelligence behind it.
This Guide Includes Instructions to:
Get Started with a Food Journal
Keep Track of Eating Habits for Weight Loss
What to Record in a Food Journal
Secrets to Make the Best Use of and Stick to a Food Journal
What It's Like to Keep a Food Journal?
Well, it's just a daily record of what you eat, in what quantity, and at what time.
It's a simple track of calories and their nutritional or other dietary information, organized meal-by-meal, daily, or on a weekly basis. 
In fact, a closer examination of your food journal can reveal several surprising facts about your eating habits and diet.
Based on the available data, your nutritionist can interpret it to balance your nutrition intake to make weight loss effective. Also, you can track down essentials in your diet. 
Besides, it can track down the specific reason behind the difficulty in maintaining a calorie deficient diet. Closer monitoring of what, when, and how often you eat helps you balance out weaker points of your diet.
Study on Healthy Food Journaling
The latest study published in

obesity

suggests tracking your diet takes less than 15 minutes.

A food diary is an inbuilt mindfulness tool helpful in evaluating how you feel before, during, and after food consumption.

The same research indicates food logging can help in keeping you aware of weight loss choices while being effective.
Given the effectiveness of starting a food journal, the benefits are clear. Nevertheless, most end up asking How To Start A Diet journal.
Starting a Food Journal: An Elaborative Step-by-Step Guide
Food journaling is just about being consistent and patient. Initially, it would feel extremely challenging. In case you missed a day, don't panic. Just get back to it from the next day.
Food logs exhibit a lot irrespective of whether you do it daily for a year or just for today. Yeah, you can take a notebook and start scribbling. Tech offers more innovative ways. Use phone notes, take pics, or use specific food journal apps on iPhone or iPad, or android device.
#1: Log Foods
The Best Ways To Food Journal is recording the exact moment you eat. However, it's not always realistic, so don't dread it. You can take pictures and later on keep recording details.
#2: The Location is too Important
Most don't have their meal or snack right at the dining table. Thus, keeping track of where you are having your meals will record your current eating habits and their impact.
#3: How You Feel and What're You Up To
Noting these down will help you track down patterns and find ways to make certain changes. For instance, snacking due to work-related stress will also be recorded.
Certainly, once you encounter such patterns, you can switch it with a healthier one. In this case, going for a 15 minutes walk is healthier and better.
#4: Eating Fuller Over Flavor?
For instance, you had a burrito at lunch. But, did you require the rice, guac, wrap, beans, sour cream, cheese, all the salsas, and steak?
Are you feeling sluggish afterward? This can help you stick to your goal while keeping you healthy.
#5: Have You Missed Any Meal?
Did you miss a meal? Or you had a lighter meal at lunch? Having the required calorie in the respective mealtime is necessary. Skipping meals can lead to overeating later on.
#6: Your Food Log is a Library
Food Journal Benefits isn't just about weight loss, but it functions as your complete food library. It's your go-to list to get back to your fav item and the places you love getting it.
#7: Be Honest
Starting a Food Journal is being true to yourself about your diet. If you aren't truthful about your entries, it isn't worth doing it.
Thus, be realistic, and if you begin noticing reasons making weight loss impossible for you, don't jump to changes directly. Make it gradual and be consistent with the food journal.
This was a complete stepwise elaborative breakdown of How to Start a Food Journal.
Certainly, the primary reason for going for a Healthy Food Journal is effective weight loss and diet maintenance. Surprisingly, over time, you would encounter numerous benefits.
How Does Starting a Food Journal Help Weight Loss?
Starting a Food Journal can play a deciding role in your weight loss journey. Well, a closer inspection of the technicalities involved in this method appears capable of deriving the required result.
Even then stronger establishment and proof are needed to support this science.
Thus, several studies and clinical trials have been conducted from time to time. Here's some Food Diary Weight Loss Study showing significant facts.
Study 1: Food Diary Would Double Weight Loss
A study by Kaiser Permanente's Center for Health Research in Portland, published in the August edition of the American Journal of Preventive Medicine indicates that Starting a Food Journal can double weight loss.
Apart from the food journal, participants attended weekly support group meetings.
Meanwhile, they followed a heart-healthy DASH (Dietary Approaches to Stop Hypertension) diet rich in fruits and vegetables and low-fat or non-fat dairy. Plus, they were subjected to moderate-intensity exercise for half an hour daily.
After six months, around 1,700 participants had an average weight loss of nearly 13 pounds.
Study 2: Food Journaling Leads To Positive Weight Loss Results
Another Food Diary Weight Loss Study conducted on obese and overweight folks represented surprising facts. More than 2 in 3 adults in the US are either overweight or obese.
Almost 142 such men participated in this study. They had to regularly log in the details of their food consumption.
The online weight loss program ran for a six month period where they wrote meal details. Also, they participated in online group sessions on weight loss strategies.
At the end of the study, the researchers concluded that people only take 15 minutes to maintain food details. Moreover, those who were frequent in feeding in detail experienced more weight loss.
The Importance of Tracking Food Intake can be understood from the above-shared studies. However, don't misunderstand. Only filling in details daily won't work out.
Apart from that, you need to analyze your food journal and make possible changes, if required.
Nevertheless, the food journal isn't just beneficial in weight loss but also led to several other positive benefits.
Top 4 Benefits of Starting a Food Journal
Food journaling isn't just about slimming down and getting leaner. In fact, several studies have revealed unexpected beneficial perks associated with it.
In this segment, we've specifically dealt with the numerous amazing Food Journal Benefits.
#1: Makes You Accountable For Every Bite You Take
The easy peasy delicious-looking food makes you crave it even if you are full. Ultimately, it adds additional calories load to your diet. 
In short, being mindful of each calorie consumption is crucial for effective weight loss.
Evidently, keeping a record of each meal keeps you aware of what to have and what not to. Thus, your accountability towards a calorie-deficient diet increases.
#2: Keep Track of Nutritional Needs
What you are having is equally important as how much you are eating. Oftentimes, people organize their diet according to calories missing out on nutritional value. 
However, once you keep a record of what you're having, you can get back to your nutritional statistics. Whether you require more carbs, fats, or fiber, you can add it to your next meal.  
#3: Identify Your Eating Habits
Healthy Food Journal benefits are immense. It keeps complete track of what you are eating daily, weekly, and even yearly. 
Thus, when you get back to it, you can observe and even identify eating patterns with timing and frequency.
Whether you are missing a primary meal or doing unhealthy snacking, track it down and change it for making weight loss work.
#4: A Perfect Partner to Other Health Diaries
Eating right is a pivotal part of staying healthy. However, it's not the only thing to slim down and burn fat. Experts suggest exercise, sleep, your mental state, and day to day task have an impact on your overall health. 
In fact, tracking your other daily habits along with writing a food journal can show you the bigger picture. Thus, you get a handy outlook on your entire weight loss journey.
Usually, the Food Journal Benefits tempt people to start theirs. Nonetheless, at ground level, beginning and writing appear drastically problematic.
One of the major questions in terms of how to start a food journal is what to write!
6 Key Things to Track in Your Food Journal
The problem isn't just about Starting a Food Journal. Instead, the issue lies in what to write and track through a food journal.
Here's a short guide to help you in keeping your food diaries up to date.
#1: The Food
Of course, it's the most essential part. Note down everything you consume or drink daily, irrespective of their portion size. Moreover, keep enough details to understand what you had. In case, ingredients info is available, note it down too.
#2: The Amount
A food journal is often considered to be limited to what you are consuming. However, how much you are having is equally vital. Thus, when noting down your meal, don't forget to mention the food portion. Use terms like small, large, medium, or a number of items.
#3: The Nutrition Stats
The major goal of food journaling is to watch out for nutritional value cautiously. Specifically, Calories and fat are primary stats. Still, jotting down other nutritional information can help you monitor your health. For diabetics, carbs and sugar intake are must to be watchful of.
#4: The Time
Time is a crucial element of Food Journaling for Weight Loss. It indicates patterns like overeating or less eating at a certain time. Because of this, you prevent overeating or under-eating later to compensate. Plus, it helps point out the unhealthy eating patterns.
#5: The Scenario
Where you are having your meals also has an impact on your eating pattern. When partying or eating out with friends, people often miss their calorie count and end up having more. Furthermore, eating on the couch instead of the dinner table has some sort of similar effects.
#6: Your Feelings
Your emotions have a strong impact on the quantity and kind of food you consume. Happiness leads to overeating, whereas sadness leads to under eating or even overeating sometimes.
So, while noting down in your food journal, don't forget to put your feelings in a bracket.
These are key attributes of food journaling that must be mentioned. Overtime analyzing these factors would help you interpret your healthy as well as unhealthy eating patterns. 
Moreover, examining the reasons for weight loss would be easier. Thus, starting a food journal on the go is the best way to keep weight loss on track.
4 Food Journaling Tips To Get Started
Food journals and weight loss go hand in hand. However, getting started is a bit complicated for a new person in health and wellness. 
Some key aspects help in sticking to the food journaling routine.
#1: Which Food Journal Format Works for You?
First and foremost, Starting a Food Journal requires a detailed format to record the crucial details. Factors including nutrient, quantity, timing, etc. have to be put here. Use either a diary or a fitness app on your phone. Food Journal Ideas are good to go with.
#2: Keep Your Food Journal Handy
Take your food diary wherever you go. In fact, using a digital food journal would be better to keep things updated on the go. This helps in building accountability to logging your food consuming details. Finally, accountability to your calorie deficient diet multiplies.
#3: Put Honest Details And Positive Affirmation
Food journaling for weight loss isn't to impress others. It is to jot out factors restricting your weight loss results. 
Thus, putting down honest details about your daily meal consumption is a crucial thing. Finding it tough? A study found out people putting honest details were more successful in achieving their weight loss results.
#4: Consistency Is Key
Initially, getting used to food journaling would appear tough. Most people are full of questions, what to write, what to not, missing details, and more. However, once you get into a routine of doing it regularly, you won't find it tough.
These tips can be immensely helpful for starting a food journal. At last, we have shared a concise analysis. So, is it worth it?
Takeaway: Is Starting A Food Journal Worth It?
A food journal makes you accountable and helps analyze your eating habits from time to time. Ultimately, you have an open window to alter your future eating choices accordingly to multiply weight loss.
Even so, it isn't going to work if you aren't honest about filling in details or are ashamed about it. Moreover, food journaling means not only filling in the details but checking them on a regular basis.
It helps in eliminating wrong eating habits while helping maintain a calorie deficient diet.
In fact, this factor makes Food Journaling and Weight Loss correlated. 
Thus, apart from Keeping A Food Journal for Weight Loss, be consistent in making changes after analyzing your progress. The best part is it only takes 15 minutes of your day!