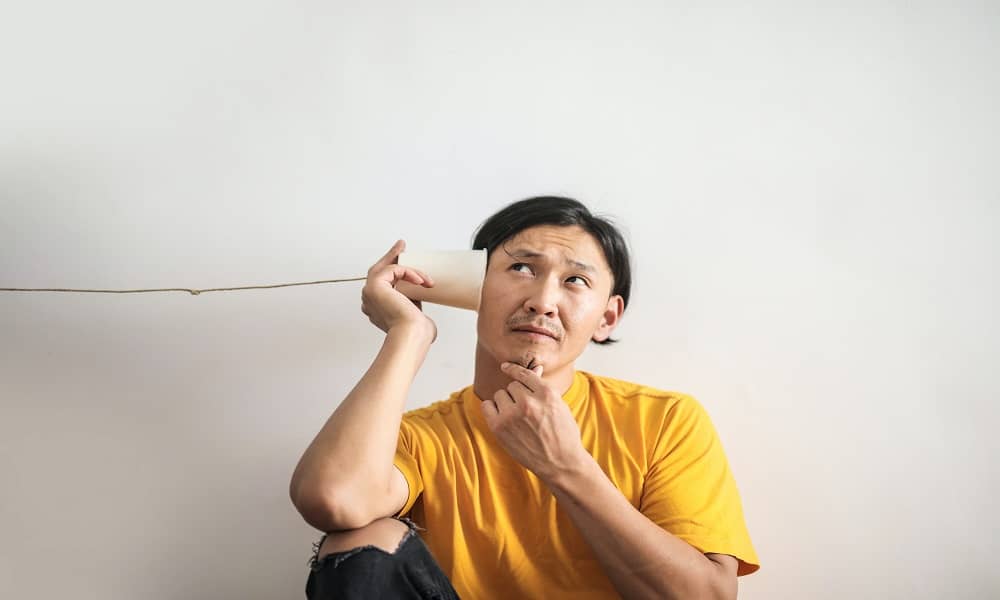 14 Jan

Do You Have Meniere's Disease | How to Know If You Have Symptoms
Meniere's Disease is a specific inner ear condition that, when ignored, can result in vertigo.
Read on to find out if you have the condition or not!
Even a minor body part has greater significance on your overall health. Well, this becomes especially significant in relation to your ears.
When they are working fine, you might not even pay special attention to them. Though, as soon as some troubles arise, it becomes particularly hard to ignore, whether it be normal ear wax or a condition like Meniere's.
Ear diseases can lead to various complications when ignored.
So, why should you be concerned about Meniere's?
Meniere's Disease is an inner ear condition, which can result in vertigo (a specific kind of dizziness). Apart from that, patients have encountered ear ringing, temporary and permanent ear hearing loss, and fullness and pressure in-ear.
Mostly, the condition affects the ear on one side.
Scientists haven't yet discovered the reason behind Meniere's disease.
However, it begins due to changes in the fluid in tubes of the inner ear. Moreover, other possible causes are allergies, autoimmune disease, and genetics. Anyone can suffer from this health issue.
However, early Meniere's Disease Diagnosis is necessary to prevent future complications. 
Here, I've noted down the early symptoms indicating you suffer from the condition.
Let's start our guide on How Do You Know If You Have Meniere's Disease and how to better navigate the situation.
How Do You Know If You Have Meniere's Disease | First Signs & Symptoms
Not every issue in your ears means that you have Meniere's Disease. Still, some signs and symptoms are a strong indicator of the issue.
If you're wondering How is Meniere's Disease Diagnosed, looking for the first signs is enough to determine the prevalence of the disease.
Hence, one way of Meniere's Disease Diagnosis is to look out for certain early indications and warnings.
Signs And Symptoms of Meniere's Disease
These early Symptoms Of Meniere's Disease can be warning signs. So, go through them closely.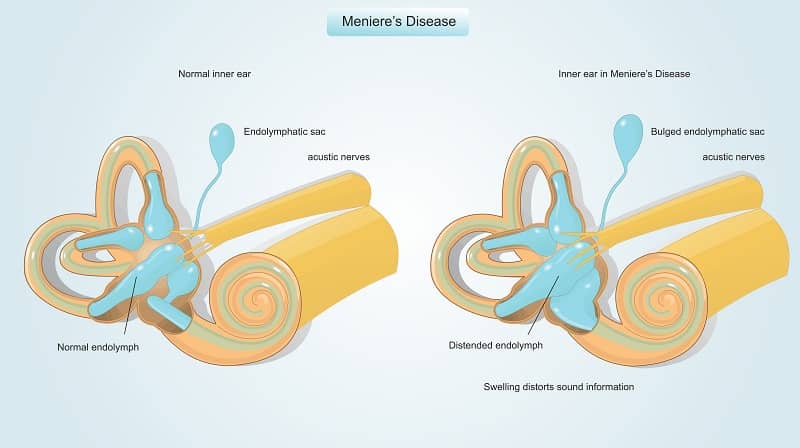 1. Fullness in the Ear
Meniere's disease patients complain about pressure in an affected ear (aural fullness).
2. Hearing Loss
Suffering from a health condition will make you suffer from hearing loss that may come and go. Ultimately, the hearing loss is permanent in some cases.
3. Ringing in the Ear (Tinnitus)
Patients have oftentimes complained about ringing in the ear or Tinnitus.
Usually, patients have complained about the constant sound of a buzzing, ringing, whistling, roaring, or hissing in the affected ear.
4. Periodic Episodes of Vertigo
In severe cases, Meniere's Disease Triggers vertigo. Actually, it's dizziness, which leads to a spinning sensation starting and stopping spontaneously.
Vertigo episodes can begin without any warning and may last for 20 minutes to many hours. 
Along with these symptoms, people have also complained about:
Anxiety

Trembling

Blurry vision

Nausea or diarrhea

Cold sweat and rapid pulse
What Does a Meniere's Attack Feel Like?
Meniere's attack is just the periodic episode of vertigo. Nonetheless, this is likely to occur in several cases.
Patients experience sudden dizziness appearing like a spinning sensation, beginning and stopping unexpectedly. Usually, it lasts for 20 minutes.
But in some cases, it can go on for hours but not more than a day.
Besides, once Meniere's attack is over, the signs and symptoms of Meniere's Disease disappear for quite some time. 
This segment was for reference to help in how do you know if you have Meniere's disease. Still, it's better to consult a doctor to confirm this condition on time.
Undoubtedly, these signs or symptoms of Meniere's disease can occur due to different illnesses. Thus, a doctor or medical specialist can provide an accurate Meniere's Disease Diagnosis.
One of the questions that persist beyond the diagnosis of the ailment is if it's treatable. Several findings are available in this matter.
Can You Get Rid of Meniere's Disease?
In the early time, it was considered to be a condition related to the brain. 
However, a French doctor, Prosper Meniere, in the 1860s, discovered that the disease is related to the inner ear and not the brain. Thus, the condition has its name on him.
After his discovery, continuous discussion and debates have gone on. Besides, studies and scientific researches have also continued. In fact, scientists suggest that the disease is treatable.
By employing Meniere's Disease Diet, exercise, and natural treatments, positive improvements prevail.
Moreover, experts suggest that six out of 10 people have improved on their own or can regulate vertigo with diet, medicine, or other methods.  Except for a small percentage of patients with Meniere's disease can receive positive results only with surgery. 
Finally, you can conclude that Meniere's disease is treatable. But how?
Let's explore the prevailing Meniere's Disease Treatment Exercises and other treatment methods.
Meniere's Disease Treatment That Have Proven to be Effective
A clinical diagnosis is necessary before suggesting medical treatment. However, such methods aren't necessary for every patient.
In fact, in some minor cases, only making a few lifestyle changes is sufficient.
So, before you look into Meniere's Disease Treatment Natural and clinical, let's peek into the helpful lifestyle changes.
Lifestyle Changes to Reduce Meniere's Disease Symptoms
A few habits can exaggerate the intensity of the health condition. In such a situation, committing to long term changes can offer great relief.
Surprisingly, in terms of Vertigo Meniere's Disease Treatment, a few lifestyle changes can offer an excellent difference.
#1. Refrain from Caffeine and Alcohol
The reason behind avoiding caffeine and alcohol is their dehydrating effect, which interferes with your body's fluid levels.
#2. Reduce Sugar Intake
Some folks have experienced Meniere's connection with sugar. Thus, they prefer limiting their sugar intake. Interestingly, experts even recommend avoiding artificial sweeteners.
#3. Stay Well Hydrated
Drinking water frequently the whole day is highly important. Eventually, this helps regulate fluid levels in your body, which is essential to prevent Meniere's disease.
#4. Avoid Excess Sodium
Limiting your salt intake is equally crucial for Preventing Meniere's Disease.
#5. Try a Diuretic if the Above Dietary Changes Do Not Help
A diuretic can occasionally assist in balancing your body's fluid levels.
#6. Stress Reduction is Necessary
Stress can further worsen the situation. Thus, experts recommend involving in activities leading to stress reduction.
Apart from these, specialized Meniere's Disease Diets are effective in treatment. Consulting with your nutritionist can help in creating one that will suit you.
Meniere's Disease Treatment Exercises
Physical activities can also help in relieving symptoms and signs of the health condition.
Well, level 1 exercises involve standing sway exercises, Romberg exercise, and marching in place. These are just a few beginner physical activities.
Over time, you can get ready for level 2 exercises. Usually, this involves performing head movement while standing and turning.
Comparatively, physical activities are a bit challenging. However, this Vertigo Meniere's Disease Treatment shows improvement within a few days to a few weeks.
Whichever activity you perform, go slow initially. Gradually, you can increase timing and even perform more reps. 
Moreover, during the initial days, experts recommend having someone around to take care of in case you fall. Once you are used to the physical activity, performing exercises won't involve such concerns.
Level 1 exercises may assist in increasing and improving balance for vertigo.
Moreover, when performing, begin slowly. Over time, increase the workout period. Plus, also increase the frequency of the reps. 
The level 1 Meniere's Disease Treatment Exercises are:
Standing sway exercises

Marching in place
Level 2 exercises may support in refining balance for vertigo. Furthermore, it can also lessen vertigo symptoms.
However, you can increase the workout duration with time.
These exercises can include:
Turning in place

Head movements while standing
Apart from these, aerobic exercises, walking, and even yoga can help. 
Mostly, vigorous workouts form the top recommendation. Nonetheless, if you aren't comfortable, perform slow physical activities.
Tracking Your Progress
Only performing Meniere's Disease Treatment Exercises isn't effective. You have to track your workout to see the positive impact on your symptoms.
Thus, creating a chart with the date and exercises performed can help. Well, usually these Meniere's Disease treatments are Natural and effective.
But in some cases, these won't work. Henceforth, employing clinical methods is going to work in such conditions.
Other Meniere's Disease Treatment [Medical Procedures]
When the natural method seems not to show any positive results, you should seek clinical methods.
You can either prefer oral, injecting, and surgical methods depending on the intensity of the health condition. 
#1. Oral Medications
Oral medicine for motion sickness may support vertigo. Besides, medication for nausea can prevent vomiting occurring along with dizziness. Other oral drugs are:
Diuretics

. It helps in reducing body fluids retention. However, if you're already taking it, the doctor might suggest cutting down salt intake.

Steroids

. In case, any underlying immune system problem becomes apparent, the specialist might ask you to take a short course of steroids.
#2. Injections
This Meniere's Disease Treatment goes straight into your affected ear to ease vertigo.
The injection declines the function of the affected ear. This gives time to the good ear to balance up. However, the treatment is available at doctors' only, and shouldn't be self-administered.
#3. Surgery
In some cases, none of the above methods work. Thus, preparing yourself for surgery is necessary.
Here are the top surgical Meniere's Disease Treatments:
Endolymphatic sac shunt surgery

. The method involves reabsorbing the fluid part of the ear and draining it out. Usually, the patient might require to spend a night in the hospital after the operation.

Vestibular nerve sectioning. Meniere's Disease surgery requires 5 days stay in the hospital. In fact, a neurosurgeon begins this surgery who rescinds the nerve responsible for causing vertigo.
Cochleo-sacculotomy. This is yet another Meniere's Disease Surgery that helps drain the fluid. 
Labyrinthectomy

. The surgeon breaks the part of the ear responsible for controlling balance. The process requires a few days' stay at the hospital.
This entire discussion must have made you aware of how do you know if you have Meniere's disease and its treatment.
Lastly, let's check out some of the popular queries asked by people, suspecting they have Meniere's.
Meniere's Disease | Most-Asked Questions for Easy Reference
Apart from the entire discussion, more questions still require an answer.
In this segment, I've provided a concise explanation for such queries.
So, Can You Live a Normal Life with Meniere's Disease?
Meniere's disease has no cure. So, once the condition is diagnosed, the person has to live his life accordingly in terms of diet and exercise.
Nonetheless, Meniere's disease symptoms come and go. So, it won't be problematic. Only a small fraction of patients have developed permanent disabilities due to Meniere's disease.
I hope these FAQs cover your questions in relation to the health condition.
If not, I would love to address them down in the comments box.
As we're drawing to the end of this guide on how do you know if you have Meniere's disease and strategize the prevention methods, I summed up everything discussed so far for reference.
The Sum Up
Meniere's disease is an inner ear condition that can lead to periodic episodes of vertigo. With no permanent solution available in the current scenario, a few treatments can provide relief from Meniere's disease symptoms.
Nonetheless, before going for any treatment, knowing if you have Meniere disease is necessary.
Our complete guide on How do you know if you have Meniere's disease should have helped you find that out. 
Remember, the signs and symptoms experienced in Meniere's can also be an indicator of something else. So, never self-diagnose. And if you're already certain that you have Meniere's, it's not the end of the world. 
Scientists are currently working on finding a permanent solution.
Until then, you can hold in there and incorporate dietary and lifestyle changes.
It's the only thing under your control, proven to reduce the severity of your symptoms. 
So, here you go!
Now, I hope you have a somewhat general idea of how do you know if you have Meniere's disease. Taking care of yourself and managing stress can really go a long way. Though if your symptoms are serious, I would recommend consulting with a specialist immediately. 
PEOPLE ALSO READ:
Image Source
Meniere's-disease: Hearing Resources Audiology Center